Pana Lodge on Parade
A crew of 22 Pana Lod
ge Elks carry the American flag during a Labor Day parade in September, in which 20,000 people were in attendance.
Pana Soccer Shoot
The Pana Lodge 1261 Soccer Shoot attracted 26 contestants, 12 girls and 14 boys.  There were 60 parents and spectators on hand, with 13 volunteers helping run the event.
East Central was among IEA districts hosting a soccer shoot.  We had 13 contestants, 5 girls and 8 boys.   Pana Lodge spokesman Kyle Slayback said there were 45 contestants and spectators with 14 volunteers helping things run smoothly.
Pana Raises Funds for Scholarship
Pana Lodge joined forces with the local Women of the Moose cha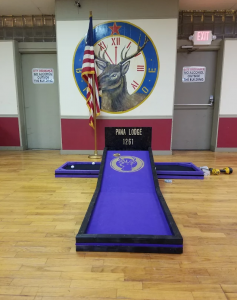 pter to host the first Bar Stool Open golf-style event to raise funds for a scholarship in the name of now deceased community stalwart Jim Downs, who was both a member of the Elks and Moose before he died. Downs had wanted to organize a Bar stool Open for the small town of Pana, and in October the Pana Elks participated in the 1st annual Jim Downs Memorial.  Approximately 240 members competed, while Pana Elks members donated food and built one of the holes, shown here.  The enclosed picture is the hole. All proceeds went to the Jim Downs Memorial Scholarship, as well as to update the city's Christmas lights and decorations.
Pana Hoop Shoot
The Pana Lodge Hoop Shoot attracted 26 contestants, plus 60 parents, spectators and volunteers who helped run the event.