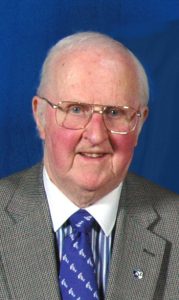 Bob passed on August 2 and visitation and service will be held at First Presbyterian Church, 400 East Carroll, Macomb, IL on Tuesday, August 8. Visitation – 12:30 pm and service (preceded by Elks Service) at 2 pm.
This is an excerpt from his obituary…
Bob Yeast was initiated into the Macomb Elks Lodge in 1942 while in basic training at Camp Blanding, Jacksonville, Florida. Following WWII he became very active in the Elks, serving as exalted ruler in 1965-66, the same year he donated the first Easter Bunny costume to Macomb Lodge for their Easter Bunny program. In 1967, he was chosen as Macomb Lodge "Elk of the Year." As an active member of the Lodge he served a term on the House Committee, and a five year term on the Board of Trustees. During this time he sponsored a team in the Macomb Elks Bowling League which continued into the 1980's. He also served in several capacities on the Board of Directors of the Illinois Elks Bowling Association, including 14 years as treasurer and as president.
In 1975 he began his journey through the Illinois Elks Association's (IEA) District offices, being elected District Deputy Grand Exalted Ruler in 1980-81. In 1984 he was elected third vice-president of the IEA and in 1988-89 he served as president. From 1988-93 he was an Area 5 Ritual Committeeman. During 1988-99 he was selected as the Grand Esteemed Loyal Knight. From 1993-95 he was chairman of the Grand Lodge Ritual Committee. On November 16, 2013, Macomb Lodge honored Robert Yeast with a Roast to recognize his 71 years of outstanding service and dedication to furthering the goals of Elkdom.
You can read the full obituary here – http://www.clugston-tibbittsfh.com/notices/Robert-BobYeast.